Marbella Hospitalization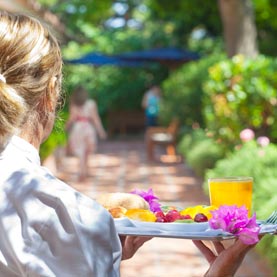 Upon your arrival at the hospital, our receptionists will help you with the final paperwork and will give you all the necessary information you will need with regards to your stay.
Hospital policies and recommendations
Instalaciones. Comuníquenos lo antes posible cualquier desperfecto o mal funcionamiento de los aparatos que hallará en su habitación.
Equipment.Please communicate to us as soon as possible if any of the equipment in your room is not functioning correctly.
Valuable objects.The hospital will not be responsible for the loss of any valuable objects and as such, we recommend that you leave your jewelry and other valuables at home. However, the usage of a safe is available to you should you need to lock away any items.
Visiting hours.HC visiting hours are from 9.00 am to 9.30 pm. You may receive visitors anytime during these hours unless otherwise specified by your doctor. Should you wish not to receive any visitors during your stay in the hospital, please inform Reception.
Smoke free zone. Our hospital is a smoke free zone. Smoking is not permitted in any of the inner nor outer areas (terraces, balconies, gardens) of the hospital.
Medical attention. To complete your prescribed treatment you will receive medical attention from our nurses and auxiliary staff 24 hours a day. Please inform them with regards to any medication you have taken, possible allergies, and other useful health information.
Medication. During your stay, you are prohibited from taking any medication that has not been prescribed by your doctor or authorized by our nursing staff.