Patient care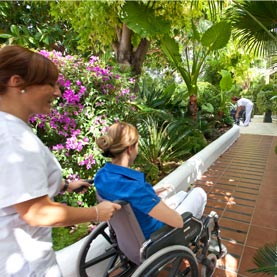 Patients are our guests.
Our focus is on people who try. Our entire team is focused on service and patient care, ensuring their care, ensuring a unique stay, with the highest standards of quality and comfort.
The patient's relationship with the team at HC Marbella is narrow and lies in the hands of one person controlling each step and provides a level of security and confidence. Thus, the nurse becomes its reference.
In serious cases, the need for care is emphasized. Also, the dependence of the patient with respect to the nurse increases, becoming caregivers "integral" of these people.

The nurse, along with the physician, is responsible for providing the patient with all the information and care needed for this process to be as mild as possible. In addition, the large capacity that characterizes empatizadora nurses becomes an important point for security and self-esteem of the patient.
This form of work is necessary to add a theoretical and practical exceptional all hospital staff, which includes a good level of second language (English, German or French) and following the recommendations of the Clinical Practice Guidelines Nursing Science, which guarantee the quality of care.