Expertise in care and innovation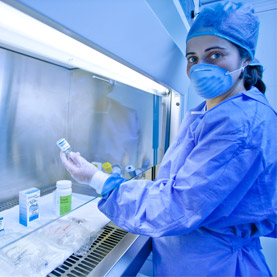 HC Marbella's Oncology Unit is supported by a highly qualified medical team of the most prestigious physicians from Spain and abroad, creating a multidisciplinary medical committee of high standing.
In our facilities, patients are our guests. Our goal is the people that we treat. Our entire team is focused on providing service and care to our patients, ensuring they receive the best care and guaranteeing them a unique stay with the highest standards of quality and well-being.
We are committed to quality care and we support personalised care for our cancer patients. The philosophy of our healthcare professionals is to know our patients on an individual basis. As each patient's case is unique, so are each patient's needs.
From the moment a patient enters the hospital, a nurse is assigned to serve as a guide. In certain cases, the need for care is more intensive and as the patient is more dependent on the nurse, the nurse becomes one of the primary caregivers. This is an important point for the safety and self-esteem of the patient.
To our work philosophy we must add the exceptional theoretical and practical training that the hospital's medical staff receives, which includes fluency in a second language (English, German or French) and adherence to the recommendations of the Scientific Nursing Clinical Practice Guidelines, which guarantee quality care.