Oncology Pharmacy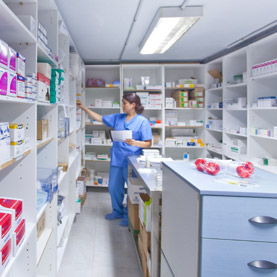 In recent years it has become common for multidisciplinary oncology teams to include a pharmacist whose role is to carry out research and create drug-therapy programs. HC Marbella International Hospital also aims to optimise processes in the therapeutic chain, from electronic and automated prescriptions to drug administration, which makes us a reference in the optimisation of performance and procedures in the treatment of cancer.
The importance of Oncology Pharmacy has grown in hospital settings as oncology pharmacists are playing a larger role in multidisciplinary oncology/haematology teams, in research projects, in the creation of drug treatment programs and in direct patient care. This represents the model of reference for optimising the performance and procedures of the therapeutic chain.
Our commitment helps to increase the safety of treatments, preventing adverse reactions, interactions or errors, and to launch innovative initiatives that present an added benefit to other health professionals and to the patient.
Being able to coordinate prescriptions and the preparation and administration of medicine reduces waiting times. Our goal is to facilitate the comprehensive care of the cancer patient.