Multidisciplinary treatment
Multidisciplinary treatment based on three fundamental aspects:
Personalised care for each cancer patient.

Diagnosis and individualised treatment, in accordance with the patient's genetic profile.

A comprehensive and multidisciplinary approach to cancer treatment.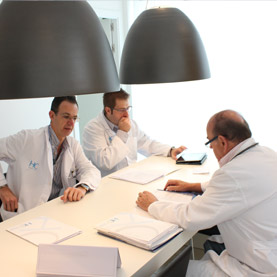 This means that each patient's case is addressed from the professional point of view of a number of medical specialists who have been able to study all possible treatment options in order to provide the most effective solution.
A team of expert participants made up of gynaecologists, surgeons, medical oncologists, radiologists, pathologists and supported by the most advanced technology, plan comprehensive and coordinated action that considers all options, including the application of the most modern techniques.