Gynecology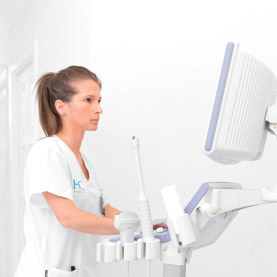 Our gynaecological unit offers Comprehensive Gynaecological Care for all ages with the active participation of the patient. In addition, it specialises in prevention and early diagnosis for cancers of the ovaries, uterus, vagina and cervix.
We give special importance to the stage that occurs after age 50, when women begin a new phase of their lives, full of changes. We pay special attention to certain alterations that affect their quality of life: mood swings, changes in sleeping patterns, decreased libido, hot flushes, osteoporosis and cardiovascular diseases.
We have a few simple tests that help us carry out early diagnosis for diseases affecting the breast and cervix.
â–ª Annual gynaecological examination.
â–ª Vaginal cytology and the lancing of cysts and the examination of other lesions.
â–ª Teaching patients how to carry out regular breast self-examination.
â–ª Mammography and breast ultrasound.
â–ª Genetic studies of familial cancer.
To accomplish this we have a team of specialists in gynaecology who advise in the prevention and treatment of these diseases with the aim of providing women with comprehensive care.
Our centre also offers additional tests for the diagnosis and prevention of osteoporosis, cardiovascular diseases and for avoiding disorders that can occur during menopause.
â–ª Bone densitometry
â–ª Vaginal ultrasound
â–ª Hormonal therapy or alternatives
â–ª Psychological support