Hospital pharmacy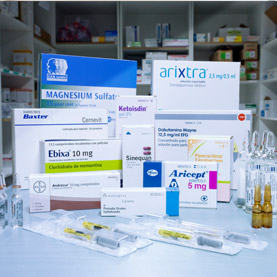 In recent years our hospital pharmacy has completely changed its approach and professional development. We have expanded our horizons and the services we provide to the Hospital, moving beyond the traditional role of managing the acquisition, preparation and dispensing of medications.
Our activities are:
â–ª Guaranteeing and undertaking the technical responsibility for the acquisition, preservation, and safe storage of drugs.
â–ª Overseeing the unit that prepares cytostatic drugs and designing protocols for the safe use of cytostatic drugs, protocols for working with the laminar flow hood, and protocols for leaks and extravasations. In addition, we validate oncological treatment and supervise its preparation.
â–ª Participating in the Hospital's Pharmacy and Therapy Committee, and in this context aiding in the selection of drugs as well as the establishment of protocols.
â–ª Creating a safe and effective drug dispensation system, as well as setting policies for the safe and appropriate use of medication.
â–ª Carry out training activities in pharmacotherapy for the rest of the health care staff, as well as being a resource for information for all matters related to drugs.
â–ª Establishing a system of pharmacovigilance within the Hospital, which allows us to detect side effects and interactions at an early stage and communicate them to the regional pharmacovigilance authority.
â–ª Planning studies on medication use as well as pharmacoeconomic studies.
â–ª Carrying out whatever functions are necessary to ensure the best use and supervision of medications.
â–ª Maintaining a system of quality assurance that allows the continuous improvement of all processes and accreditation by quality agencies.